New year, new features and improvements! This is the first release that includes RDF-star and SPARQL-star support. This new specification is an important step for the community and we're happy to support it with our plugin.
Release Notes
Example of SPARQL-star query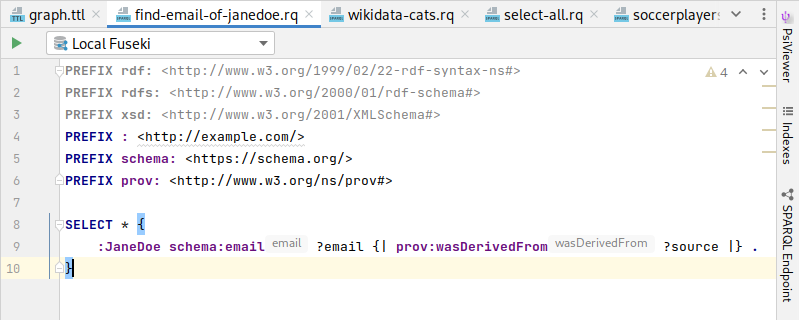 We introduce Languages & Frameworks -> RDF and SPARQL -> Vocabularies section in the IDE settings to configure locally indexed vocabularies. You can provide a custom download URL, check when the vocabulary was downloaded, etc.
Configuration of DBpedia ontology

We also introduce Languages & Frameworks -> RDF and SPARQL -> Quick Documentation section to select the preferred language for the quick documentation and inlay hints. Now it should be easier to work with multilingual vocabularies.
Vocabularies may change over time, therefore we introduce the Refresh vocabulary in local index action to refresh a vocabulary in the local index. Press Alt+Enter on the prefix definition to see the action.
Refresh RDF Schema in local index

At the end we fixed some issues:
Fix HTTP Proxy support for all features doing HTTP requests.
Fix Optimize Prefix Declarations (Ctrl+O) in case of the empty prefix label.
Fix Quick Documentation (Ctrl+Q) for prefixed name completion suggestions and others.
That's all for now! As always, we're happy to hear your feedback. Book a call with us at Calendly or write an email.
Thanks!
We'd like to thank again our active users reporting issues and requesting features. You're the best!