Quick Start Guide
Below you can find general instructions on how to install the plugin and work with RDF and SPARQL in IDEA, DataGrip, and other JetBrains IDEs. Menu paths and dialog appearance may slightly vary depending on a particular IDE.
Install RDF and SPARQL
Go to File / Settings | Plugins in your IDE, switch to Marketplace, and search for RDF and SPARQL.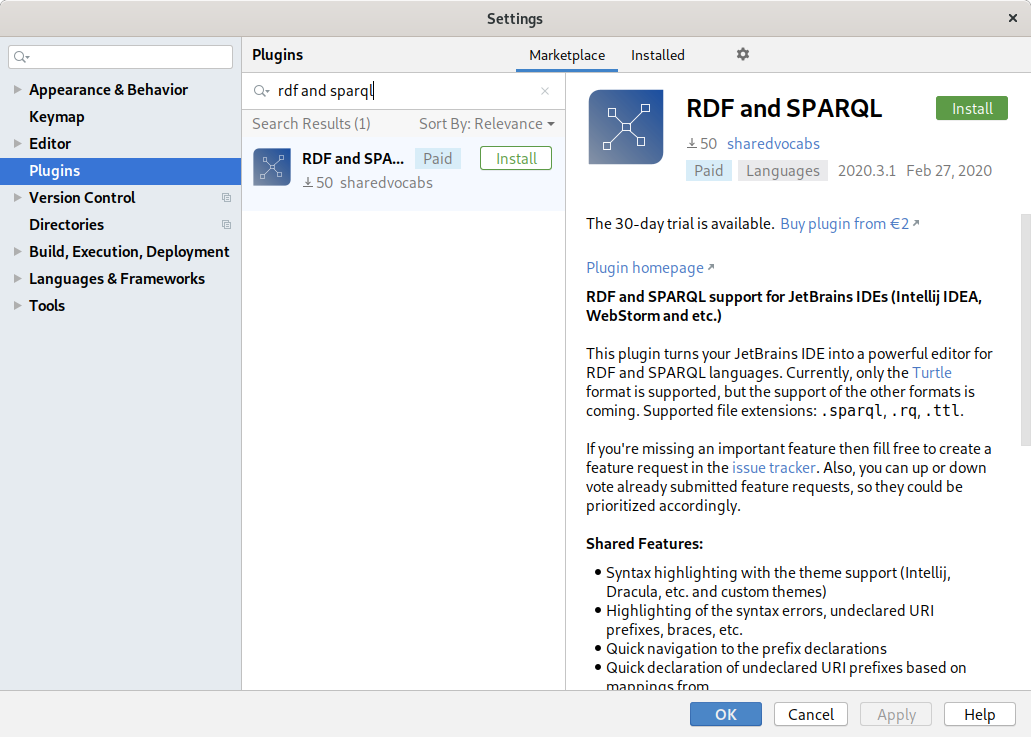 Click Install and restart the IDE.
Create an RDF or SPARQL file
Go to File / New, then select SPARQL File or RDF Turtle File or RDF Trig File option and put file name in the popup without an extension.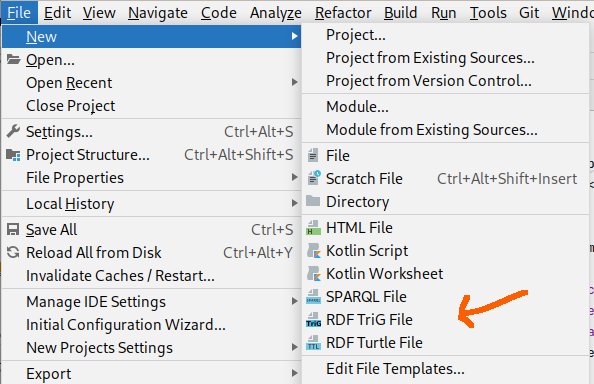 Also you can press Ctrl+Alt+Insert to open New in This Directory popup and search for one of the options, then put file name in the popup without an extension.
Execute a SPARQL query
The plugin supports execution of all query forms of SPARQL 1.1 Query Language and SPARQL 1.1 Update. To execute a query you need to have a SPARQL endpoint registered and a SPARQL file with a query.
Register a SPARQL endpoint
Open SPARQL Endpoint tool window, press + button on the top or Alt+Insert and you should see the New SPARQL endpoint dialog.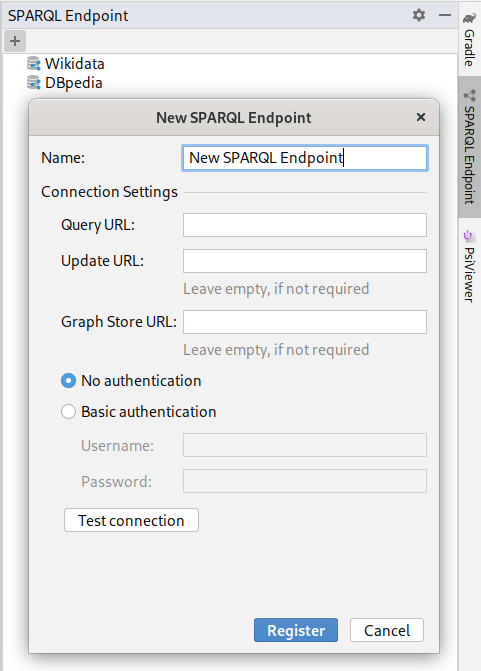 Enter the name and connection details, after that it is recommended to test the connection settings with Test connection button. If the connection settings are okay, you should see a green check sign.
Open and execute a SPARQL file
Create a SPARQL file with a query or open an existing one. Press the Run button in the editor toolbar or Ctrl+Enter shortcut.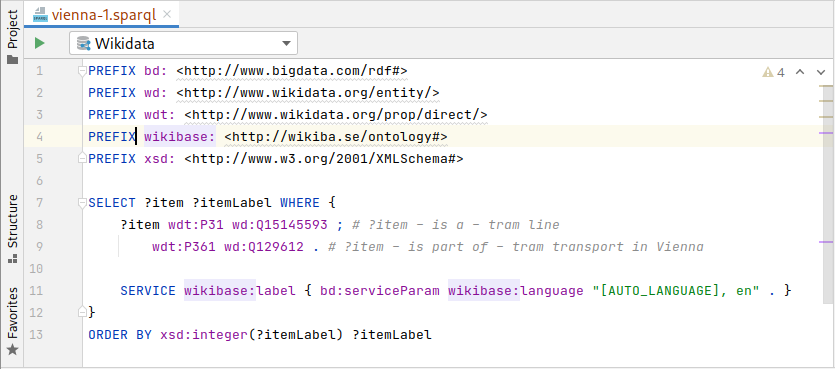 The 8:Services tool window will open up and show the query results, like on the screenshot below. The prefix declarations from the query are used to replace URIs with corresponding prefixed names.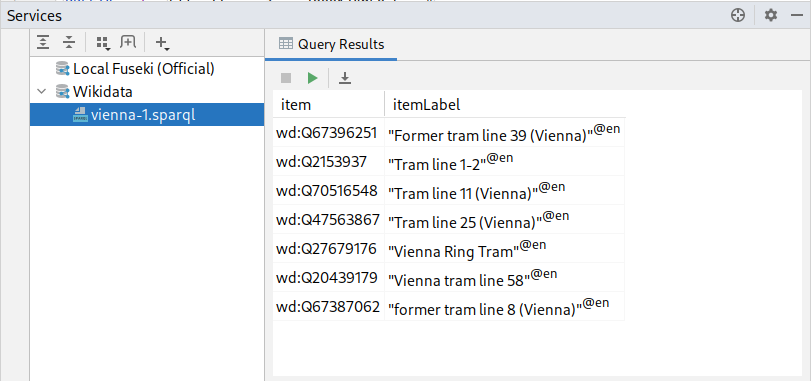 Press Execute button or Ctrl+Enter to rerun the query or Export to file button to export the query results in a file in CSV, TSV, XML, JSON, Apache Thrift or Text formats.
Declare a well-known or a custom URI prefix with a keyboard shortcut
The plugin can automatically declare a well-known URI prefix or a custom one registered in the current project. Place the cursor on a prefixed name if an undeclared prefix, press Alt+Enter and select Try to lookup prefix URI to declare it option.

The well-known URI prefixes provided by prefix.cc are used here. You can override a well-known URI prefix or declare your own one in File / Settings | Languages & Frameworks / RDF and SPARQL / Prefix Declarations.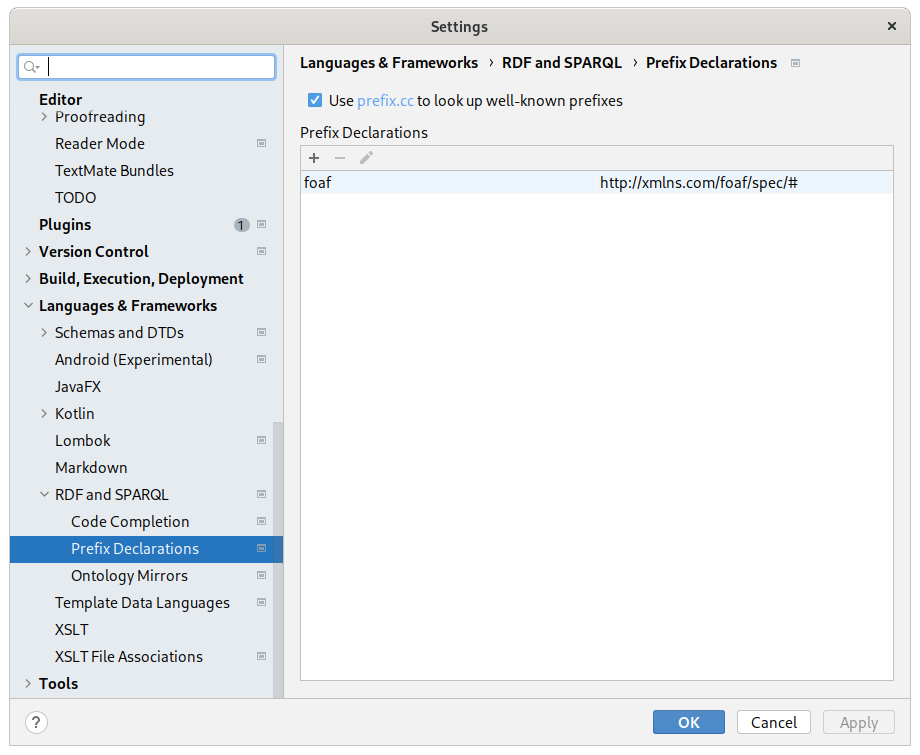 Such custom URI prefixes are used on a per project basis. If you want to share them with your team members, then commit .idea/rdfandsparql.xml to the project's version control system.
Use completion suggestions for prefixed names
The plugin provides completion suggestions for prefixed names of classes and properties based on:
Use Ctrl+Space shortcut anywhere in file or after the colon in a prefixed name to see completion suggestion like on the screenshot below: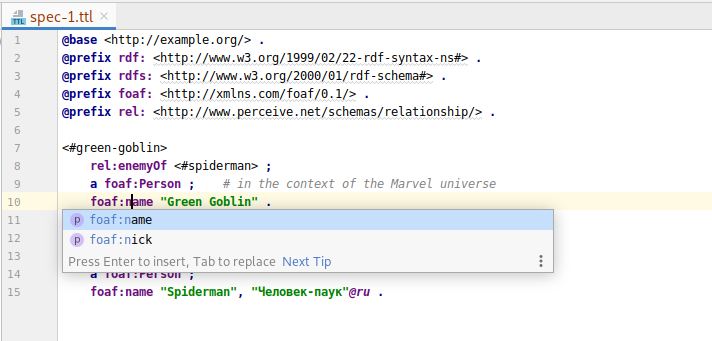 The prefix should be defined with PREFIX or @prefix earlier in the file than the prefixed name you want to autocomplete. Don't forget to download ontologies for better and faster completion suggestions.
Download an RDFS/OWL ontology for local indexing
The completion suggestions and quick documentation work the best with locally indexed ontologies. The plugin supports both RDFS and OWL ontologies. To download an ontology do the following steps:
define a namespace with PREFIX or @prefix for it,
use Alt+Enter shortcut on its URI,
select Try to download to enable autocompletion, etc. option.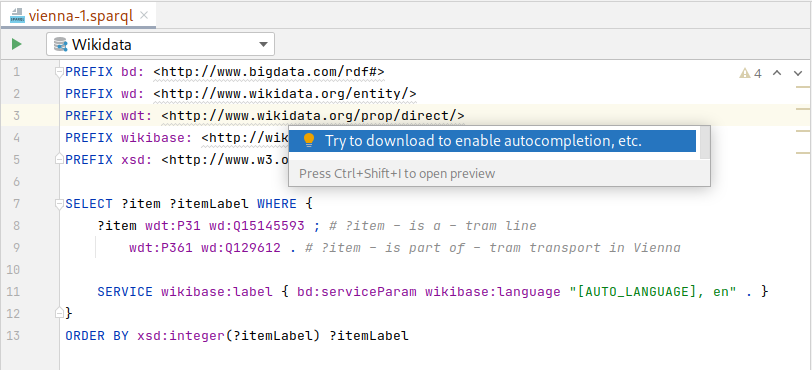 You need to download an ontology only once and then it is available for all projects in the IDE.